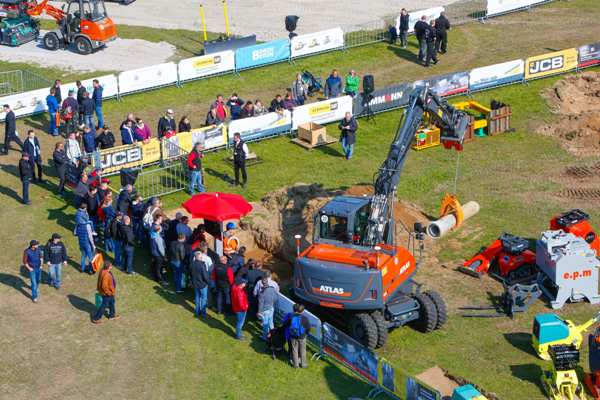 TiefbauLIVE will be held from 5 to 7 September 2019 and will present the full spectrum of civil engineering machinery, with a special focus on road, path and conduit construction. The machinery on show will be accompanied by a selection of add-on equipment, accessories and services such as leasing, maintenance and software. The topic of conduit construction will have its own dedicated demonstration building site. Among the machines on show here will be dumpers from Bergmann and Hydrema, a vibrating plate, tandem roller and trench roller from Ammann, as well as a bucket screener and other special tools from MTS. ALLU, Epiroc, Lehnhoff, Mecalac, Menzi Muck, Optimas and Zeppelin with Caterpillar are just some of the other brands that will be demonstrating their products, alongside RSP with its suction excavator. We have enclosed a preview of more conduit construction products that will be showcased at the Karlsruhe Trade Fair Centre. Alongside this, the RecyclingAKTIV trade fair will present the latest systems for all areas associated with recycling valuable materials.
Trenchers for conduit construction
Epiroc will use TiefbauLIVE to showcase its range of hydraulic add-on equipment. Trenchers are used for laying pipes and cables, as well as cutting rock. The company will show its Erkat ER 650 trencher live in action at the demonstration building site for conduit construction. The ER/ERC 50 to ER/ERC 3000 series of transverse drum cutters are now available with the new optional cutting wheel. This makes it possible to cut trenches with a width of 55 to 250 mm and a depth of 150 mm to 700 mm in a single work step.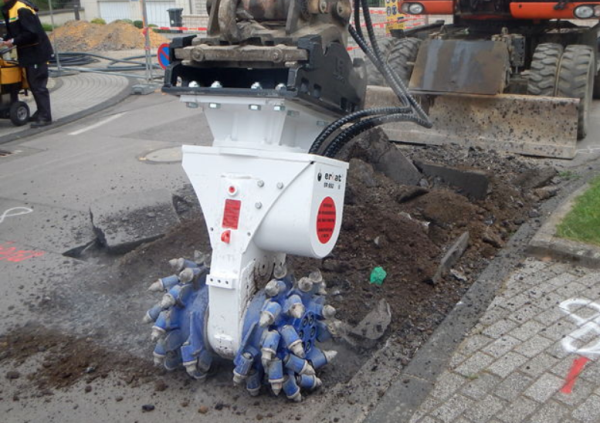 Modular solutions reduce time and costs
Vp Groundforce specialises in leasing shoring and hydraulic shoring equipment, and will present its hydraulic struts and bracing for customised installation solutions. These modular systems are easy to transport and can be flexibly adjusted to the shape of the trench and the available lifting equipment. Thanks to a combination of high material savings and fast assembly and disassembly, the hydraulic struts and bracing systems offer a major cost and time advantage over more complex conventional steel structures.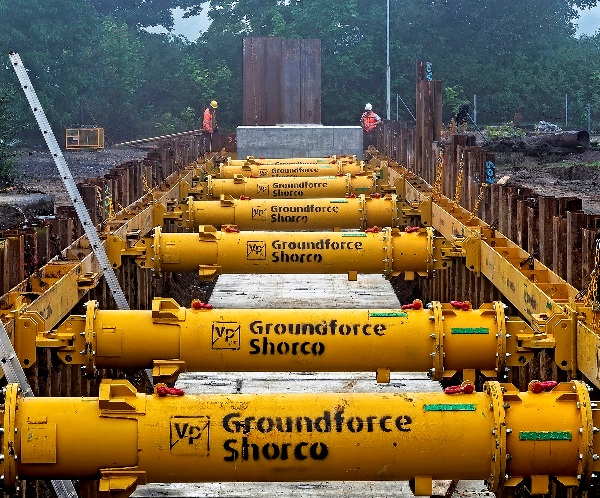 Intelligent measurement equipment – lasers made in Germany
Nedo GmbH & Co. KG, based in the Black Forest town of Dornstetten, will showcase its full range of laser products for civil engineering. On show for the first time at the trade fair will be the Nedo TUBUS2, a laser specially developed for conduit construction. This highly robust laser comes with a green laser diode as standard, which guarantees excellent visibility in all canalisation works. Its user-friendly design also ensures intuitive handling. Power is supplied by a Li-ion battery that allows for a long operating period. Also included as standard are a remote control, a set of feet for adjusting to different pipe diameters and a height-adjustable target plate.
Wastewater pumps for construction site drainage
Global market leader Tsurumi has added the new KTZ415 and KTZ615 models to its range of pumps for demanding applications in construction site drainage. The 615 is the new premium model in the KTZ range, which now includes 15 models. With 15 kilowatts of motor power, it can pump up to 2,800 l/min to delivery heads of almost 40 metres. Although the 415 can "only" pump around 2,000 litres by contrast, it boasts a maximum delivery head of 55 metres. Both immersion pumps can handle silty water, groundwater and rainwater with ease, as well as stones measuring up to 12 millimetres in diameter. Tsurumi will showcase the pumps in wet operation live at the trade fair.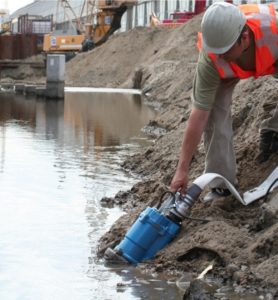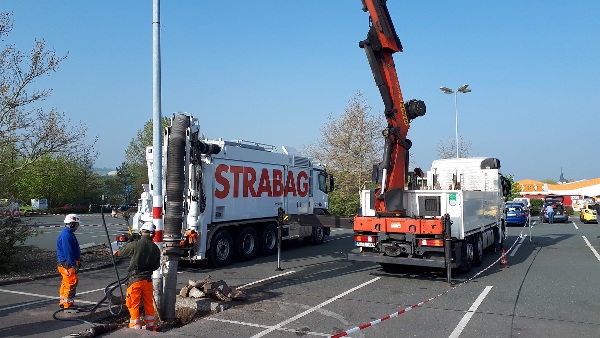 Effective digging with suction excavators
Suction excavators are an alternative solution for urban civil engineering works involving underground power cables,simply sucking the soil away.Suction excavators are up to 16 times more effective than conventional excavation methods and can replace costly and time-consuming manual work in several areas. RSP will present two of its machines at its stand in the open-air exhibition area, along with a range of selected accessories. Visitors will be able to see the ESE 6 suction excavator at the demonstration building site for conduit construction. All RSP models feature a modern PLC control system. This allows users to control the machine remotely and enables fast error diagnosis. The service and maintenance intervals are displayed and requested on the controller's display. On new vehicles, users can transfer the vehicle data to a mobile phone using an app. They can also access up-to-date machine data like position, operating hours, consumption, service intervals and error messages in real time.
Soil replacement – saving on landfill costs ensures fast amortisation
With its Terra-Star bucket screen, Kronenberger oecotec allows its customers to save money by recycling soil. Adding lime or lime mixed binder for controlled soil improvement makes it possible to re-use excavated soil in conduit construction. There are no transport and landfill costs involved, and no need for replacement material. The Terra-Star can be fitted to both excavators and wheeled loaders. The bucket screens are available for vehicles of 1.8 to 50 tons.