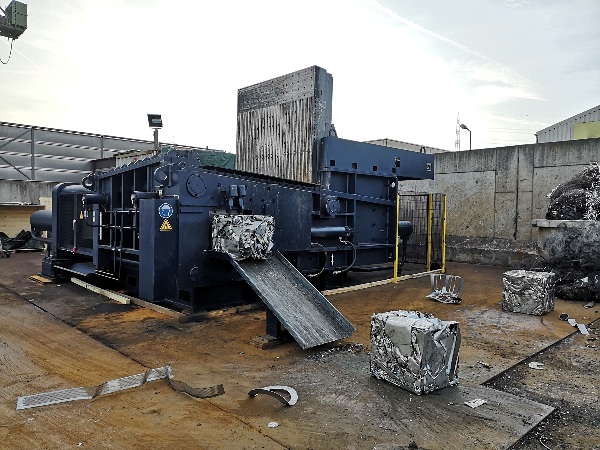 Exhibitors at RecyclingAKTIV to showcase the latest technology for metal recycling
The latest machinery and equipment for all areas associated with recycling valuable materials will be on show at RecyclingAKTIV from 5 to 7 September 2019. These materials include scrap and metals, which are also the subject of one of the event's special theme areas in recycling. Equipment like scrap shears and metal saws will be demonstrated here twice per day, along with metal processing systems from Hammel and Lindner Recyclingtec. We have enclosed a preview of more metal recycling products that will be showcased at the Karlsruhe Trade Fair Centre. Alongside this, the TiefbauLIVE trade fair will present the latest innovations from construction machinery manufacturers, road and conduit construction specialists and providers of add-on equipment.
Scrap shears on tracks
Lefort is known for its mobile scrap shears in the intermediate shearing force range of 600 to 1,000 tons. A new addition to this segment is the Trax series. These are self-propelled diesel or electrically powered units on caterpillar tracks that enable much better and more flexible logistics in modern scrap yards. The machine travels to pre-sorted material piles, therefore saving operators the expensive process of repeatedly moving material from the collection point to the machine as usual. As a special highlight for RecyclingAKTIV, Lefort will present its Trax 600 tracked scrap shears.
The German subsidiary of the Japanese high tech company Furukawa Rock Drill (FRD) will also showcase its demolition equipment and scrap shears. All shears models are fitted with speed valves as standard for faster work cycles. Trapezoidal blades improve the cutting line, while the innovative setting kit on the jaws makes it possible to adjust the play without manual intervention.  The VXB7ER powered demolition tongs will be demonstrated live fitted to a 5-ton excavator. These are used for dismantling and gutting industrial buildings.
Metal recycling goes digital
ATM Recyclingsystems GmbH is another company that will present its latest innovation in Karlsruhe, namely the Arno Press D 500-3 baler. The recycling industry is also affected by the broader trends towards digitalisation and automation. In response to this, the renowned Austrian manufacturer now offers its products with machine or process data recording as a service package, for example. This system continuously captures and evaluates machine data, making it transparent for both the user and the service team. It monitors factors such as cycle times, oil pressure, temperature and machine output.
Clean metal separation
Goudsmit Magnetics, from Waalre in the Netherlands, will present its mobile separator at RecyclingAKTIV. This system is capable of separating both ferrous and non-ferrous metals from the material flow. The Goudsmit Mobile MetalXpert magnetic separator is easy to position at the right point and is designed for course material flows like chipped wood. This results in three separate material flows: ferrous, non-ferrous and clean (inert) bulk goods that are ready to be recycled. The metal separator has a capacity of 100 cubic metres per hour. It is installed on a single-axle trailer that is suitable for road transport.
Dismantling electronic devices
THM Recycling Solutions will present its TQZ1200 turbo-crusher and demonstrate its ability to crush electronic devices. The machine uses chains to smash items like electronic waste, refrigerators or washing machines into their components, or to separate material composites. Other applications include the crushing, separation and cleaning of metals, PVC window profiles or ferrous materials in waste flows. Another product on show will be the newly developed granulator XG2400. This universal all-rounder is perfectly suited for single-stage shredding of various materials, including metals and cable waste. It can also handle household, commercial and industrial waste, along with plastics, textiles, paper, cardboard and old wood.
Cable-powered material handling excavator
The processing systems at the mobile scrap and metal yard special theme area will be fed with material by products from Zeppelin. At its stand, the company will also showcase a range of its loading and material handling machines in all relevant sizes and designs, with special equipment for the recycling industry. These vehicles are also available second hand. Among the highlights will be the cable-powered MH22 material handling excavator, as well as countless services related to these vehicles, from finance and insurance to part exchange. For companies in the process of digitalising their business, Zeppelin will also present the open fleet management system from Caterpillar.