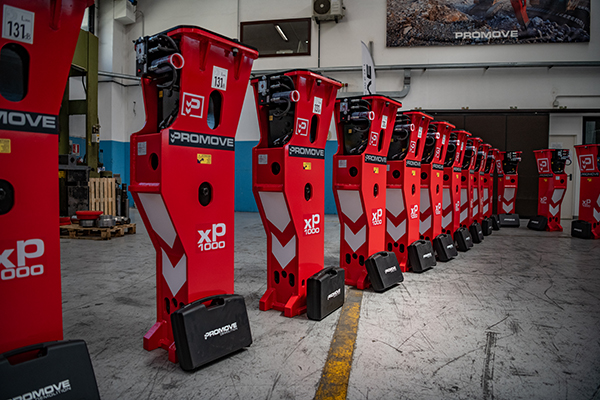 Promove srl, partner of a well-known German company for over ten years, has won the tender for the supply of 21 XP1000 hammers.
Promove's partner company operates in emerging markets by offering mechanical equipment, earthmoving machinery and tailor-made credit solutions for its customers.
The company has been operating for more than 30 years in 8 developing countries located between Asia and Africa.
The happy news follows the reopening of the Promove production plants after the lockdown caused by the COVID pandemic and immediately sets the engines of production in motion.
It was a great challenge for Promove, which after the lockdown had to restart its industrial production guaranteeing its dealers the same pre-covid timelines and respecting the terms required by the supply contract for the 21-hammer order.
From receipt of the order, Promove has prepared the 21 units required in just 6 weeks with double production shifts. After the production phase of about 4 weeks, the components were tested in 4 days and assembled in less than a week.
The commitment and joint teamwork of the production, technical and sales department has allowed the company to celebrate this great milestone in such a critical and difficult period.